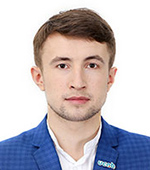 Growing cows, pigs and other domestic animals is commonplace for our country's population, but in recent years one more extravagant representative of the fauna, the snail, can be added to this list. The majority of Ukrainians know little about these mollusks, and if they have heard something, then this is that Ukraine exported them in previous years or they can be consumed somewhere in distant France.
Yes, indeed, the export of snails from Ukraine in 2016 and 2017 was a record-breaking and totalled 347 tons. Export supplies were carried out from May to July, when snails are most active and can be easily found in the wild. Lithuania, Romania and Poland were the main buyers of Ukrainian snails.
Export of snails from Ukraine for the last 5 years, tons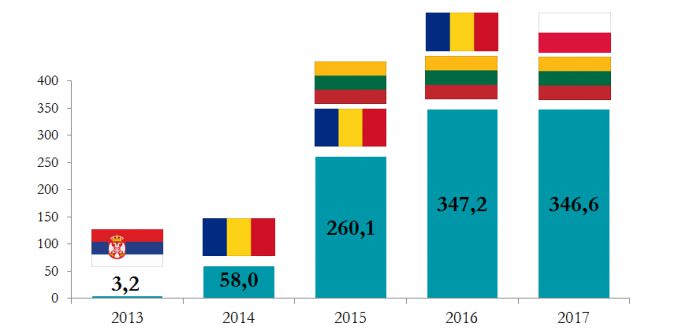 Source: State Statistics Service of Ukraine
When comparing the Ukrainian export volumes with the level of purchases of this product by the European countries, then our record supplies are quite insignificant against the background of their market size. Every year Europeans import 20-25 thous. tons and France, Spain, Italy and Portugal are the main consumers.
The export prices of Ukrainian snails fluctuated during the last 5 years in the range of 1,0-12 USD/kg. The low price is the result of the fact that mainly Helix Pomatia snails (grape snails) were exported from Ukraine, which have a lower market price due to their poor nutritional quality. This species of snails is widespread in the territory of Ukraine. In the spring-summer season, grape snails are harvested and sold to the purchasers mostly by peasants from the western regions of Ukraine for the purpose of earning.
At the same time, Ukraine is intensively increasing imports of snails during the last 3 years. In the overwhelming majority, it is a mother-stock for further breeding in Ukraine.
Imports of snails to Ukraine over the last 5 years, tons
Source: State Statistics Service of Ukraine
The value of import averages 3,0-4,5 USD/kg. Snail species Helix Aspersa Muller (small gray) and Helix Aspersa Maxima (large gray) are purchased most of all, because they have the best food characteristics and are popular in the European market.
Most European farmers are growing Helix Aspersa Muller and Helix Aspersa Maxima. Ukrainians in the last two seasons are also actively developing this industry in our country. The overwhelming majority of domestic entrepreneurs receives practical knowledge on the snail farms in Poland and then implements gained experience on the territory of Ukraine. Mother-stock is also bought mainly in those enterprises where the farmer has been trained and, therefore, 95% of snail imports in Ukraine are from Poland.
Based on trends in this market, we can conclude that a new branch of animal husbandry is emerging in Ukraine, the development of which in the near future will lead to an increase in export supplies of snails and products of their processing to European countries. A similar situation will start forming a culture of consumption of snail foods in Ukraine.