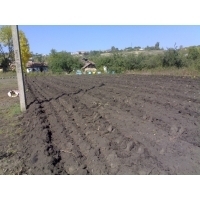 Ukraine, gripped by political turmoil for more than three months, could lose about 11 million tonnes of grain in the 2014 harvest due to a sharp decrease in sowing area caused by a shortage of funds, analyst UCAB said on Monday.
Ukraine's Crimea peninsula has been taken over by Russian forces after three months of protests culminated in the removal of Moscow-backed president Viktor Yanukovich.
In a statement, UCAB said up to 20 percent of Ukrainian arable land might not be sown this year, mainly because of "the absence of any financing in connection with the difficult economic and political situation".
"The situation has become more complicated due to atypical weather conditions, a lack of moisture in the topsoil and the need to carry out field works in an extremely short period of time," it said.
Ukraine, which started spring grain sowing two weeks earlier than usual, has sown a total of 306,000 hectares as of March 13, the analyst said.
The agriculture ministry had said farms planned to sow about 8.6 million hectares of spring grain, including 2.9 million hectares of early grain, this year.
Analysts and traders said last week that optimal weather might help Ukraine to achieve a bumper harvest, but the financing problems remained.
The long-running political crisis and Russia's move to reclaim Crimea have weakened the hryvnia currency by more than 10 percent since the start of 2014 and forced some banks to cut lending. Hryvnia-denominated costs for buying seeds, fertilisers and fuel have risen.
Ukraine harvested a record 63 million tonnes of grain in 2013.