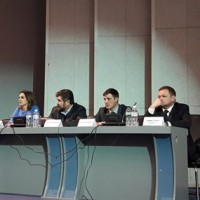 After the illegal adoption of amendment №180 to the Tax Code and the State Budget for 2018, UCAB with the leading agrarian associations of Ukraine began to protect the interests of agrarians.
On December 8, the agrarian associations held a press conference on the adopted state budget and amendments to the tax code which cause significant financial losses for the agrarians in the amount of UAH 10-16 bln, grossly violate the commitments taken by Ukraine upon accession to the WTO and the signing of the Association Agreement with the European Union and suppress the investment attractiveness of the sector.
UCAB appealed to the President of Ukraine, heads of factions and people's deputies to urgently correct this situation and protect the legitimate interests of agricultural producers. The President appealed to the Verkhovna Rada to postpone the deadlines for amending the tax system for the export of agricultural products.
On December 18, farmers came out to protest and blocked roads in three regions of the country, due to the lack of reaction of the authorities to appeals to keep the export VAT refunds.
Agrarians are immutable in their position and demand to complete cancellation of these amendments and return to the initial situation, as repeatedly stated during the National Agrarian Veche, which took place on December 19.
«The leaders of the state felt the importance of the opinion of agrarian producers. We will continue our struggle to fully implement the conditions of agrarians», commented Taras Vysotskyi, General Director of the Association «Ukrainian Agribusiness Club».