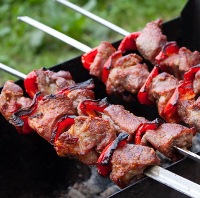 In April 2018, compared to the last month, the cost of poultry meat increased from 54,6 to 55,2 UAH/kg, beef and pork prices didn't rise significantly - by 30 and 50 kopecks/kg, respectively. In the short term, it should not be expected that meat will be cheaper.
According to the State Statistics Service data for the last several years, it can be stated that the most popular among Ukrainians is the poultry meat - according to the results of 2017, Ukrainians consumed 1032 thous. tons of this meat. On the other hand, the negative dynamics are shown by the consumption volumes of Ukrainian pork and beef meat - for the period from 2013 to 2017 consumption of pork decreased by 25%, beef by 26%. The reasons for this are the low purchasing power of Ukrainians and the increase in the production cost of these types of meat.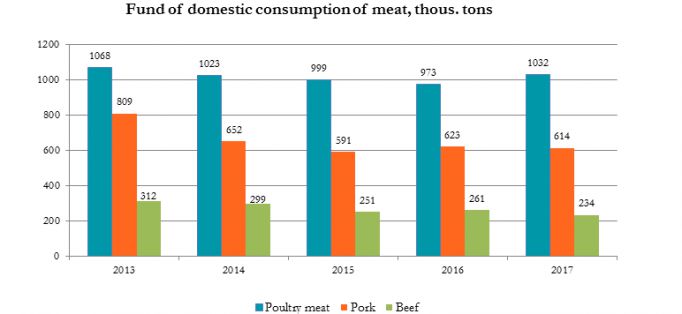 Data: the State Statistics Service
Poultry meat is most accessible kind of meat, but here the dynamics of price growth does not add any optimism. Ukrainian poultry meat producers are mainly focused on the export market, which has shown a steady rise in prices in recent times. Increased import demand fuels the prices on the international arena and gives an opportunity to expect further growth of the poultry meat prices. As a result, the rising price trend can hit the pockets of Ukrainians.
A more significant increase in the cost of all types of meat can be expected already during the May holidays. A similar trend was observed in 2017, when at the end of May, compared with the end of April, the cost of poultry meat increased by an average of 5%, pork by 27%, and beef by 6%.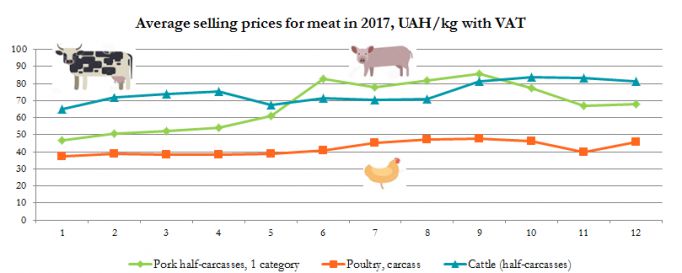 Data: the State Statistics Service
On the eve of May holidays, prices have increased for other foods. In particular, according to the data of the Ministry of Agrarian Policy, vegetables went up in value most of all in comparison with March. The so-called «borsch basket» products prices traditionally grow in the spring, when stocks in households are decreasing, and a new crop has not yet arrived on the shelf of Ukrainian shops. Beetroot rose in price by 36.7%, cabbage by 31.6%, and carrot - by 29.4%.
In the end of April, sugar (-1.3%) and buckwheat (-2.9%) became cheaper compared to the end of March.