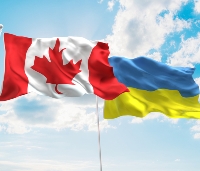 On August 1, 2017, the Canada-Ukraine Free Trade Agreement (FTA) entered into force, according to which Canada cancels customs tariffs for all Ukrainian agricultural products. The only exception is the import of poultry meat, dairy products and cheese, eggs and sugar from Ukraine. What are the results of the Agreement for the Ukrainian agroindustrial complex?
According to the results of the first half of 2018, total exports from Ukraine to Canada increased by 41% (compared to the first half of 2017) or by USD 9,4 mln. This was mostly influenced by the export of the commodity group «ferrous metals» and «copper and articles thereof», whose supplies increased by USD 13,4 mln.
At the same time, the dynamics of trade in all agro-food products for the same period decreased by USD 4 mln, which was caused by the reduction of supplies of juices and honey. In the first six months of 2018, exports from Ukraine to Canada decreased by USD 2,4 mln of juices and USD 1,4 mln of honey (compared with the first half of 2017).
At that time, imports of Canadian agri-food products to Ukraine increased by USD 3,7 mln, due to the increase in the purchase of crustaceans (shrimp) for USD 1,9 mln and pork for USD 1,8 mln. Interestingly, in the first half of 2017 Ukraine didn't import pork from Canada.
Such a fall in exports to Canada is partially offset by the increase of investment income in Ukraine. As of July 1, 2018, foreign direct investments from Canada to Ukraine amounted to USD 54,6 mln, while for the whole 2017 their volume amounted to USD 49,6 mln. Thus, the Agreement offers more opportunities for increasing investment flows between countries.
«Of course, it should not be expected on an immediate increase in exports to Canada right after signing the agreement. For example, in the case of FTA with the EU, it took 2-3 years for Ukrainian exporters to take their niche on the market and increase their volumes. It should also be remembered that domestic exporters are mainly oriented to the markets of Asia and Africa, and the market of Canada today is not a priority»,- said Daria Grytsenko, analyst of the foreign trade in agricultural products of the UCAB.