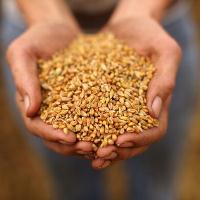 World wheat production in 2018/2019 MY will decrease to 747,7 mln tons, that is 10,6 mln tons less than a year earlier. At the same time, consumption will continue to grow and, according to forecasts of the USDA analysts, will reach 753, 8 mln tons, which is 10 mln tons more than last year's figure.
According to the May report of USDA, the predictions about world wheat production were revised downward due to a significant reduction in production volumes in Russia. The agency forecasts production figures for the country at the level of 72 mln tons, which is far below to the previous year's figure in 85 mln tons. This assessment is based on the current state of winter and spring cereals - in the south, in the Rostov region (drought on more than half of the territory), the Krasnodar region also suffers from a lack of moisture. The production figures were revised (-3.51 million tons), the EU (-1.18 mln tons), Pakistan (-1.2 mln tons), Kazakhstan (-0.8 mln tons), China (-0.8 mln tons) and Ukraine (-0.5 mln tons). The world's ending wheat stocks for the first time in many years will decrease by 6,1 mln tons in comparison with the previous year and will amount to 264,3 mln tons. Grain stocks will be reduced considerably mostly in the countries of the European Union, Russia and the USA.
Olga Kharabara, analyst of agricultural markets of the Association «Ukrainian Agribusiness Club» notes that there are currently all prerequisites for the growth of world wheat prices in the short term, given the reduction in world production of this cereal crop and the adverse weather conditions in certain producer countries. The quotation in Chicago are already characterized by a stable uptrend - market players are actively tracking the situation in the United States, where crop monitoring has not confirmed the decline in drought in the regions of winter wheat growing, and spring wheat seedlings in the Northwest have all chances be delayed due to precipitation that is projected in the coming days. News from Russia are also flowing into market prices - today the country is experiencing the arid weather conditions, and the pace of spring wheat sowing is significantly lagging behind - currently 3,5 mln hectares are sown or 27,4% of the forecast, compared to 38% in 2017.
As for Ukraine, domestic wheat came out of hibernation best in the history of monitoring. Only 100 hectares of winter wheat were lost in Ukraine this season, while the positive effect of wintering was offset by dry weather in April and May.
*USAID – U.S. Department of Agriculture.