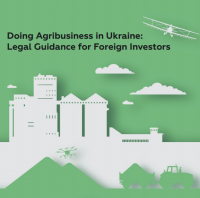 Vasil Kisil & Partners acting jointly with Ukrainian Agribusiness Club and the Ministry of Agrarian Policy and Food of Ukraine authored and presented the manual "Doing Agribusiness in Ukraine: Legal Guidance for Foreign Investors."
Ukrainian agriculture is an attractive investment opportunity. The Ukrainian government encourages foreign investors to invest in the agricultural business in Ukraine. In 2020, this sector secured approximately 9% of the national GDP, with 18% of the working population being employed in it.
The Doing Agribusiness in Ukraine manual makes a potential foreign investor aware of the key legal aspects of doing agribusiness in Ukraine, so that to increase investments in such a promising sector of Ukrainian economy as the agribusiness is. It contains descriptions of companies operating in the agricultural sector and addresses such issues as taxation, corporate governance, rights to land and property, employment relations, protection of intellectual property, dispute resolution, and state support for agriculture.
"Presently, our State is experiencing landmark historical events. We have launched a large-scale work to transform the entire agricultural sector, at the heart of which lies a land reform. We are drastically changing land relations in Ukraine for all participants, and for foreign investors in particular. From now on, a foreign company that implements an investment project on Ukrainian lands will have the right to promptly receive a state-owned or municipal land plot for implementing its project in a simplified manner. The Ministry of Agrarian Policy looks forward to a constructive dialogue with investors and is ready to fully support those who will decide to become part of agribusiness in our country", says Roman Leshchenko, Minister of Agrarian Policy and Food of Ukraine.
"The opening of the agricultural land market will be the biggest driving force of agriculture in Ukraine this year. First of all, in a limited land market, we can talk not about the expected economic effects, but about the rule of law. Landowners will finally be able to sell land freely, and land users, especially agribusiness, will be able to acquire ownership of the land they manage. We are very pleased to contribute to "Doing Agribusiness in Ukraine: Legal Guidelines for Foreign Investors" together with the Ministry of Agrarian Policy and Food of Ukraine and our partner - the law firm "Vasil Kisil and Partners", comments Roman Slaston, General Director, Ukrainian Agribusiness Club.
"Vasil Kisil & Partners, for almost 30 years, supports foreign investors who come to Ukraine and do business here. Inspired by our successful experience, we believe that foreign partners can make a significant contribution to the effectiveness and sustainable development of the Ukraine's agricultural sector.
For this reason, we decided to share, in partnership with the Ministry of Agrarian Policy and Food of Ukraine and Ukrainian Agribusiness Club Association our knowledge and experience on legal matters of doing agribusiness in Ukraine. This is the second, updated edition of our legal guide. We hope that this guidance would be helpful for foreign investors who consider doing agribusiness in Ukraine", noted Volodymyr Igonin, partner at Vasil Kisil & Partners.
You can read/download the manual here.
For more details please contact Olga Shevchenko, PR Manager
Tel.: +380 67 358 47 82